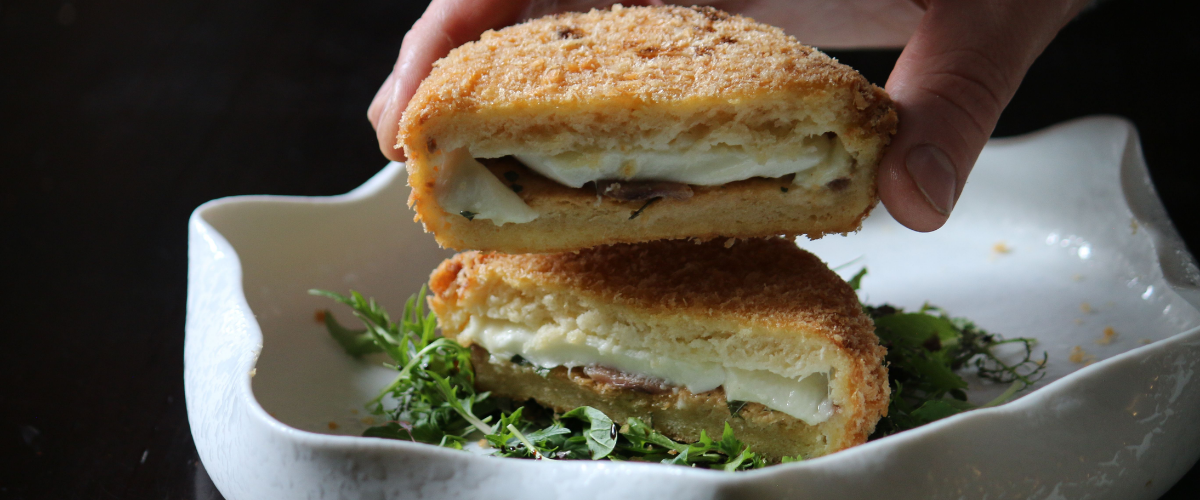 Fried Mozzarella sandwch is a typical appetizer of Campania cuisine. Perhaps one of the most famous, iconic and mouth-watering!
So how do you make mozzarella sandwich?
In this recipe, our company chef Giorgio Guglielmetti, together with his sous chef and friend Rodrigo, decided to show us their very personal version of the fried mozzarella sandwich recipe.
We start with a generous slice of buffalo mozzarella, enclosed between two slices of bread and enriched with a few fillets of Cantabrian anchovies. You then proceed to cut it with a round pasta cutter and fry it in hot oil after dipping it twice in beaten egg and panko bread. The result? A treat for the eyes...but more importantly, a joy for the palate.


FRIED MOZZARELLA SANDWICH recipe!
Mozzarella 500 g


Cantabrian Anchovies 50 g
Bread loaf 8 slices


Panko bread
Cut mozzarella cheese into slices and let dry on a paper towel

Cut loaf bread into thin slices

Dry the anchovy fillets with a paper towel

Mix eggs and prepare panko bread for the breading

Place the mozzarella slices and anchovy fillets on the bread, add a sprinkle of dried oregano

Cut the sandwich with the help of a round ramekin

Bread twice in egg and panko breadcrumbs

Fry a couple of minutes on each side

Plate